Receiving spam is like those telemarketers who call at dinner time, very annoying and you didn't ask for it. Also, spammers continue to change and develop new techniques which put you at risk. Luckily you can protect your inbox and stop this with MailWasher.
MailWasher Pro is an easy to use anti-spam program that allows users to preview all emails at the internet service provider and remove all unwanted email before it gets to the computer. The program has an easy to use message table that will let you preview all aspects of your email. This feature along with the inbuilt spam tools helps you to easily select the email you want to keep. You'll save time ans maintain security and protection against malicious spam and email viruses as they are removed before they get to your computer.
Unlike other anti-spam solutions which are integrated to the email client, MailWasher Pro works outside the email client, so users benefit from its powerful protection, without downloading unwanted messages or viruses. Users can preview, delete, blacklist and even create an "invalid email address" message to send back to the spammer making it appear that their email address no longer exists.
By reviewing and deleting content at the email server, users are protected from objectionable and harmful content including graphics, web bugs are rendered inactive, bandwidth is protected, and viruses and malicious script is stopped from spreading. Users are also given control of their email load because they can "delete" an email that isn't spam but not of interest on that particular day due to time management or other reasons. MailWasher Pro not only stops spam and viruses, it is a time management email system, giving users total control of their email boxes!
In addition, the email is an effective communication tool for educators. MailWasher Pro increases email security for educators and students by protecting their email inboxes with advanced filtering technology and automated-spam deletion.

System Requirements and Availability

MailWasher Pro is available as a download from Firetrust's website at www.firetrust.com. MailWasher Pro's retail price is U.S. $39.95 for a single-user license, which includes a one-year subscription to First Alert!
Free 30-day trial version can also be downloaded from the site.
Minimum system requirements include Microsoft Windows XP, 7, 8 and 10 operating systems. It is compatible with all POP3 and IMAP email programs, including, Microsoft Outlook, Thunderbird, Mail for Windows 10, etc and webmail like Gmail, Outlook.com, AOL, Yahoo etc.
Homepage:
Download:
https://www.firetrust.com/products/mailw…o/download
Purchase:
https://www.firetrust.com/products/mailwasher-pro
Installation and Initial Wizard:
The process is very easy. Simply double click the installer and follow the on-screen instructions till the process is completed. Now you need to login to your email address. That's all!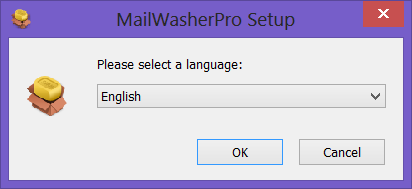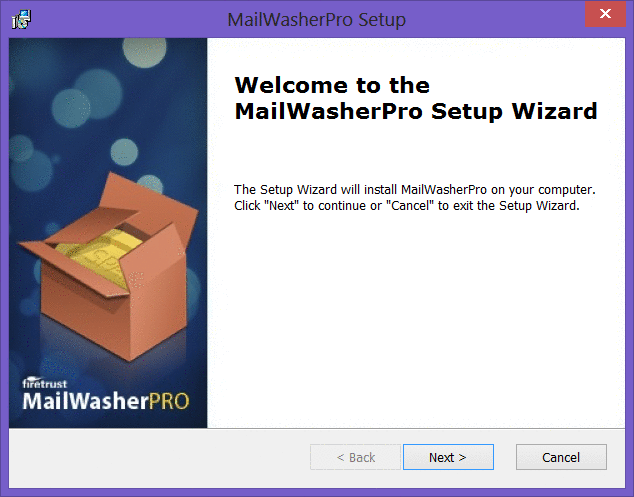 Product Info:
VERSION INFORMATION: 7.12.38
OS: Windows 7, 8 and 10, Vista and XP
Release date: June 2020
Protection against: Spam, phishing emails, email viruses, unwanted newsletters, unwanted email.
Trial Limitations: The trial offers 30 days free and full functionality. If you wish to keep using MailWasher after 30 days, you must purchase a license.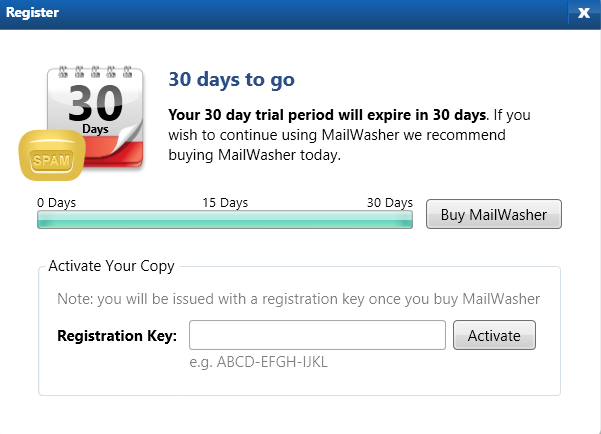 License: License to install on 3 computers. Includes 1 years use of all new versions, updates, real-time spam blocking and customer support for use with 3 computers. Current required renewal is US $24.95
Lifetime License: License to install on 3 computers. Includes lifetime use of all new and future versions, updates, real-time spam blocking and customer support which Firetrust will provide.
Benefits of Mailwasher:
• Zero spam in your computer or mobile device.
• Inspect any email before it gets to your computer or mobile device.
• Never lose an email because you can't afford to.
• Intelligent spam tools ensure spam is caught and good email is not.
User Interface: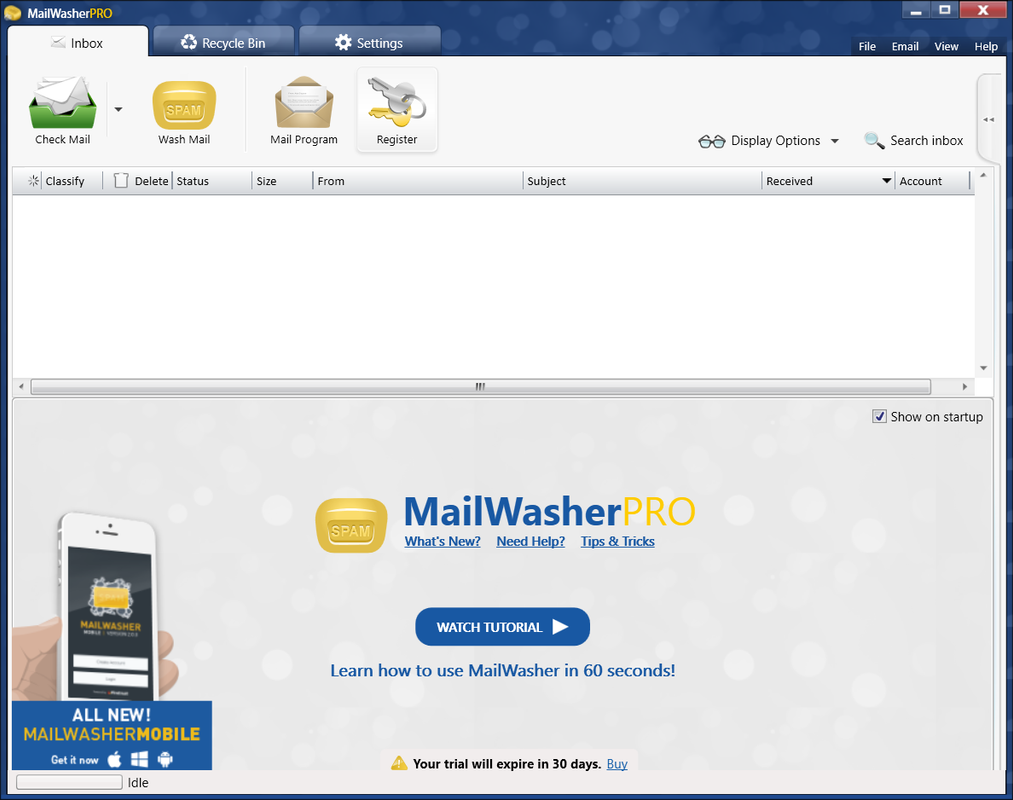 Multi Language support: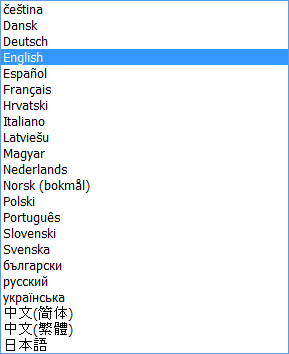 Menus:
File:
Email:
View:
Help:
Email display options:
The number of emails checked for deletion will be displayed in the right lower corner. This helps to avoid accidental email deletetion
Filters sidebar:
This section is present on the right side of the main user interface. It includes of two tabs, namely Lists and Evaluation.
The Lists section is comprised of Friends List, Blacklist and Filters. The Evaluation section lists all the spam tools used in the evaluation of the email, a score for each and total score which indicates if the email is spam, good or undetermined.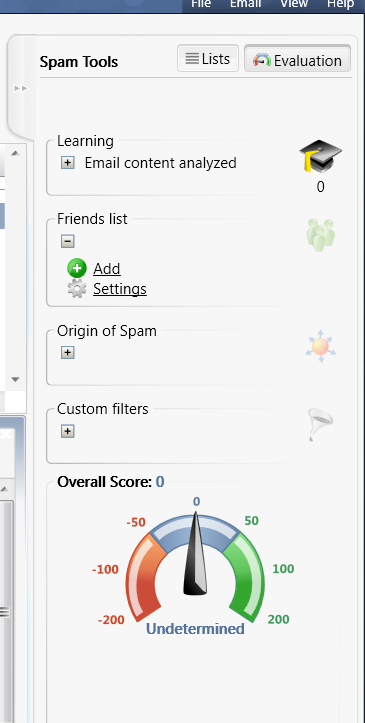 Features:
Full support for unlimited POP3 and IMAP email accounts allowing you to quickly preview emails from any service provider and almost all webmail providers (Hotmail, Yahoo, GMail, AOL etc)
Comprehensive weighted anti-spam tools such as Friendslist, Blacklist, RBL's, community spam filter, custom filters and learning filters to ensure legitimate and spam email is properly recognized.
Full preview pane allowing you to see all aspects of your email, including headers and where links actually link to. Emails are shown in plain text to avoid viruses and malicious scripts running automatically.
Full searchable recycle bin to retrieve any accidentally deleted email.
Customizable look and feel to enhance usability.
Quick and easy setup with inbuilt wizards.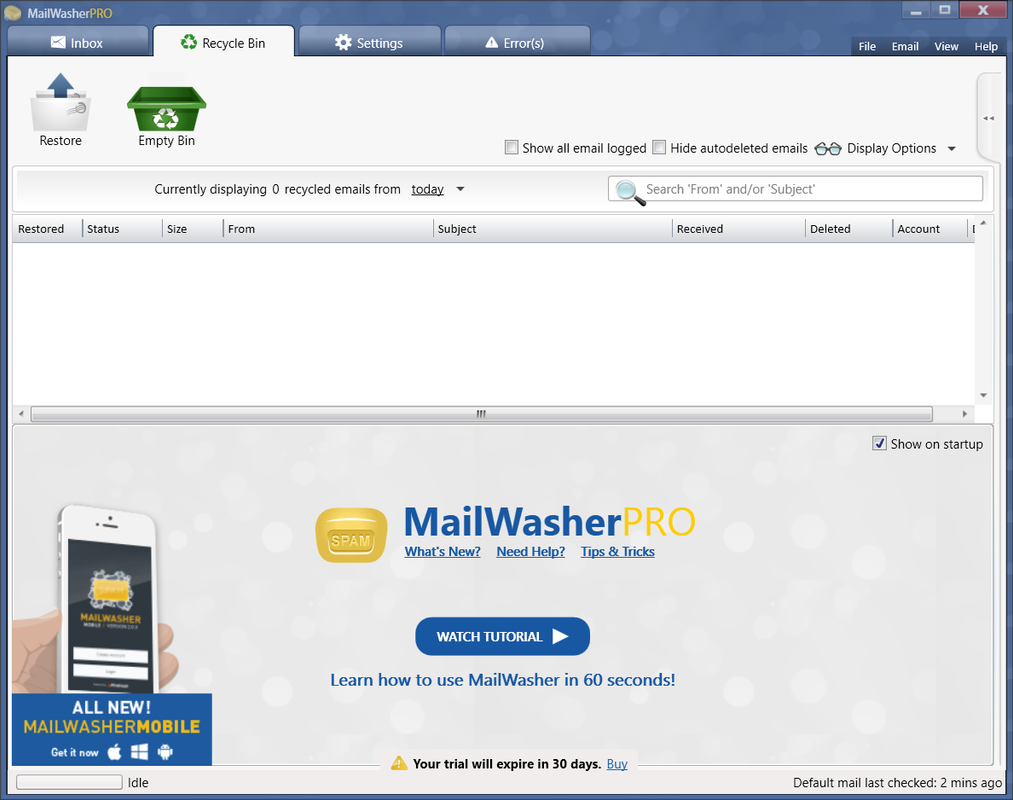 How does MailWasher work?
MailWasher logs in to your email accounts at your internet provider and downloads a copy of the email allowing you to read all your email on the server. This will let you inspect and interact with your email. The built in spam tools determine what is spam and what is good email. You can easily mark email for deletion, report spam to authorities, bounce spam back to senders and train MailWasher to better recognize spam and good email.
After sometime of use and training, simply pressing the 'Wash Mail' button will remove spam and unwanted email from the server and you can download the remaining good email to your email program.
How can you train MailWasher?
The built in spam tools let you customize how spam and good email is handled and you train Mailwasher to have very good results that suite your needs.
Simply click the 'Thumbs up' or 'Thumbs down' icons in the Classify column when MailWasher gets it wrong or doesn't evaluate it as good or spam. Doing this in 10-20 emails, MailWasher will do it all for you from then on.
How to use MailWasher Pro:
Using MailWasher is essentially a three step process.
1. Check Mail
2. Mark unwanted email for delete/training
3. Wash Mail
To begin using MailWasher, here's all you need to do.
When someone sends you an email it is first received by your Internet Service Providers email server. It is held there until you start up your email program, (Outlook, or some other program) which then looks at this server and downloads all your email, spam or not.
What Mailwasher does is to log onto that email server first and download just a small text only portion of each email. This lets you look at each one and see if it is a spam or a real email. You can then choose to delete or keep the email, so when you use your email program to download your email, all the spam has already been deleted.
Normally this is how you would use Mailwasher with your email program,
– Open MailWasher
– Click, Check Mail,
– Mark your email for deletion or keeping,
– Click Wash Mail,
– Then you open, (or Mailwasher Opens) your email program,
– Click Send/Receive in there to check for new mail like normal.
Just leave MailWasher open to collect all your email, and turn off automatic checking in your email program (so it doesn't pick up the email before MailWasher). This will ensure MailWasher gets all your email first so you can remove the junk before it gets to your computer.
One of the advantages of MailWasher is it allows you to check all your email at the server before it gets to your computer, letting you remove all unwanted email (spam, newsletters, junk, viruses) so they never get to your computer in the first place.
Receive only the email you want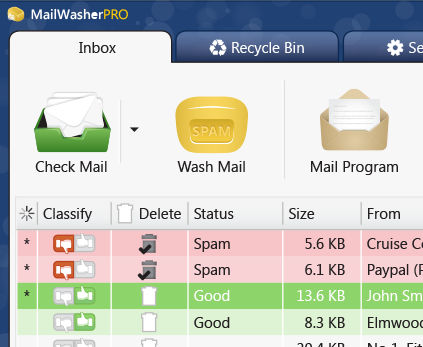 Check your email with MailWasher first. You'll be safer with the knowledge of knowing what's waiting for you on the server, allowing you to quickly inspect and read your email and remove any unwanted messages quickly and easily.
Inspect all email before it gets to your computer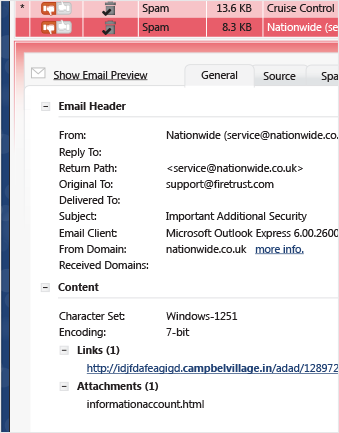 View everything about your messages before they get to your computer so you can determine if they're really spams, scams or good email. This means you can delete unwanted messages at the server so you only get the email you want.
MailWasher lets you view the email safely in plain text, but you can also inspect who it's really from, who owns the company who sent it (WHOIS report) and all the hidden links.
Given that you can't afford to lose any legitimate email, MailWasher lets you have the final say on it before letting you 'Wash' the spam away.
Intelligent spam tools: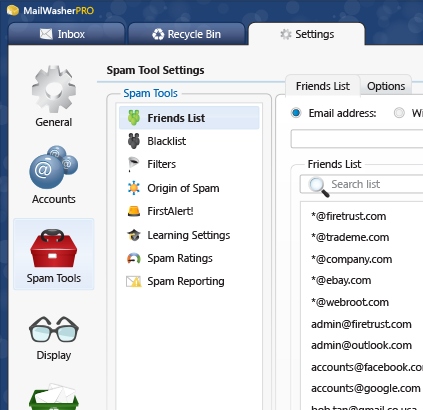 Advanced spam detection technology and tools do all the hard work for you by automatically marking spam emails. From simple friends list, blacklists and learning filters to advanced custom filters, MailWasher has you covered.
Add People to your friend list:
You can easily add any sender to your friendlist. This is done simply using right click menu of the email in your inbox, or manually through he program settings
Auto Delete Unwanted Emails:
The program has a built-in feature that make unwanted email deletion an automated process without doing any effort. You will not need to manually delete these emails. This is very useful and time saving. For example, if you don't want to receive any emails from spammers, advertisers or some untrusted addresses. All you have to do is to check auto delete option in each spam tool. For example, if you select the auto delete option in the Blacklist, any email from a sender in your blacklist will be automatically deleted.
The bounce feature: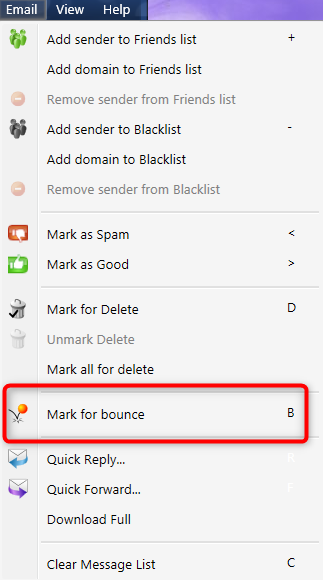 This useful tool bounces an email back to the sender. In that way, he will have the impression that your email address no longer exists and you will not receive any more spam email. Simply; right click any email (or use the preview pane) then select bounce, then click 'Wash Mail' button. That's all!
Hide and group emails:
This feature allows you to categorize and view related email. For example, you can group messages into groups regarding status (good or spam) or email accounts or both. Simply, use right click menu of column or group bar in display menu. Hide options are available through the program settings, (in spam tools) and will help you in a similar way. For example, you can hide emails from friend list, so any email on the list is unwanted
Searching for emails:
This built-in tool lets you easily search for any email in your inbox and recycle bin. Simple click on the 'Search inbox' button and you will find your email. This will save your time and effort
Preview Pane:
This is located in the lower part of the program and allows you to view all aspects of each email. For safety reasons and to protect you, the email will be displayed in plain text which is known to be safer than html format.
Free mobile version to stay spam free on the go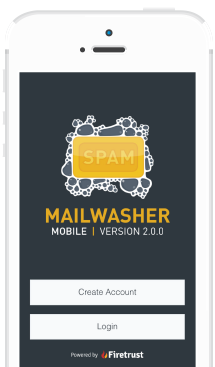 There's nothing worse than spam coming to your mobile device, so take control with MailWasher and banish that spam while on the go. It's dead easy to use and very fast.
Download the version for your Android phone/tablet, iPhone, iPad or Windows Phone and sync your email accounts, friends lists and blacklists from MailWasher Pro to your mobile device.
Easy setup, easy to use.

The setup wizard makes setting up MailWasher a breeze. Your email account settings and contacts lists are imported in to MailWasher so you can get started right away.
Right click menu options available:
You can right click any email in your inbox. The right click menu offers you easy and quick access to many options and features.
Event log:
This feature displays all events which MailWasher undergoes along with any problems encountered and suggested fixes.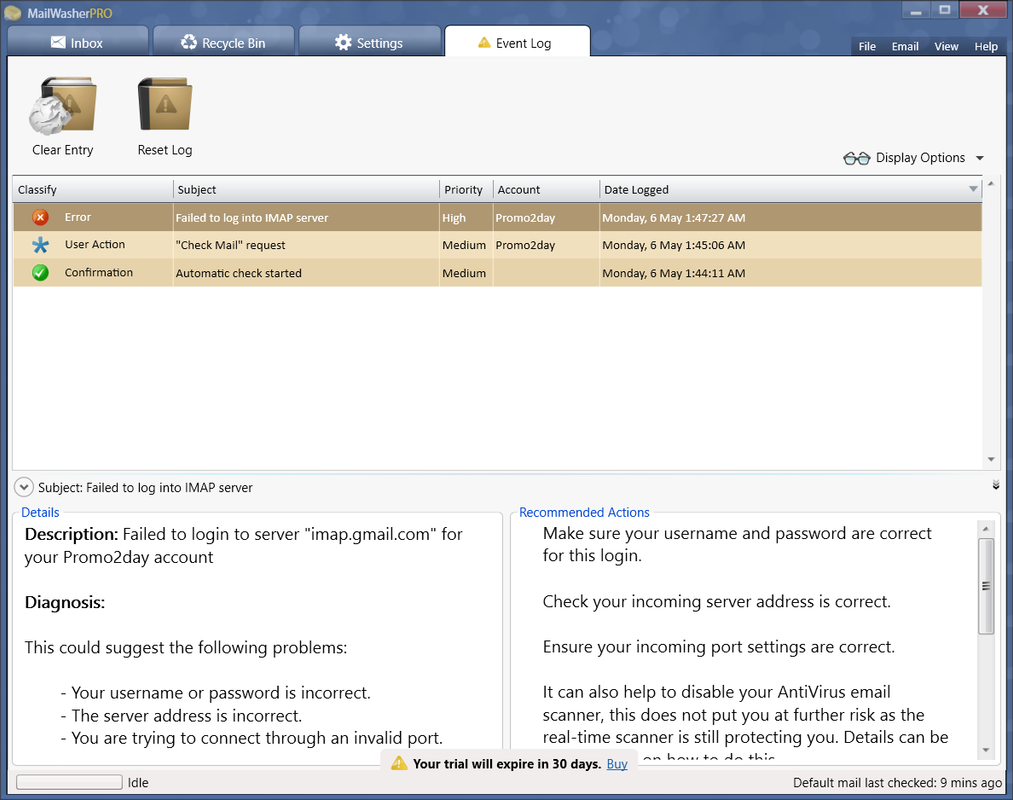 Here's a quick list of some of the main new features in MailWasher Pro 7:
IMAP emails can be viewed for the last xx days, 7, 14 and 30 days or all time: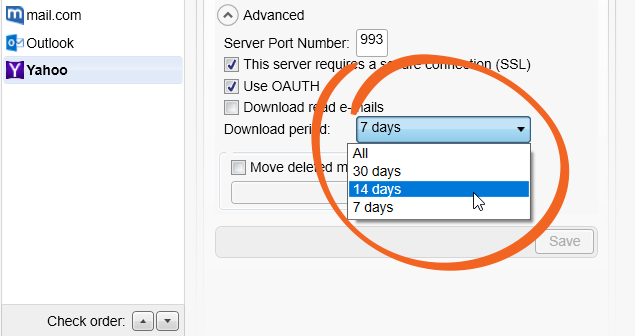 Filter by Email Account, including IMAP subfolders: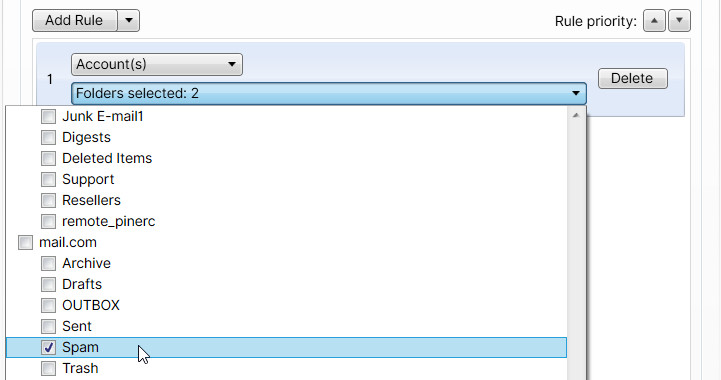 Show/Hide your email password: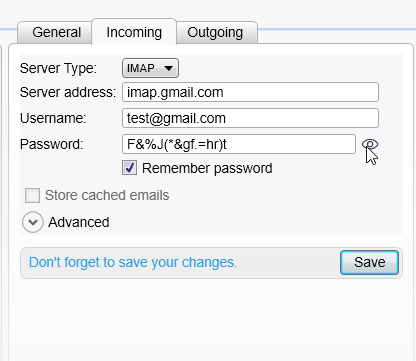 View FROM: domains in your inbox: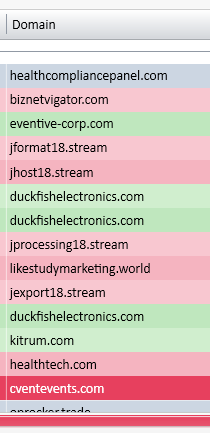 Import blacklist lists: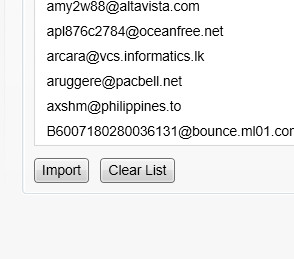 Filter by Top Level Domain, eg .com, .ninja, .eu, .org etc: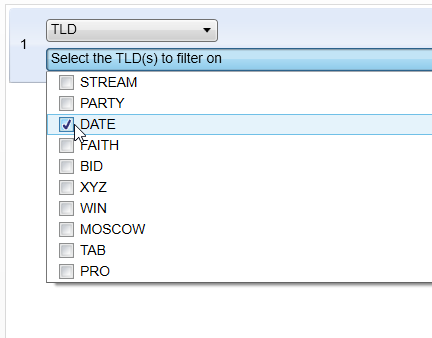 More reliable email settings

Now there should be no reason why we can't get your email account setup properly and working. We're using data from our own https://emailsettings.email website so you get the correct email settings every time you setup your email accounts.
Full changelog here:
https://www.firetrust.com/products/mailw…change-log
Install MailWasher today to screen all your email accounts in one place and allow only the email you want in your inbox. It will let you preview all your email before it gets to your computer or mobile device. In this way you can easily read all your email securely, and instantly delete any unwanted or suspicious email. The remaining good email will be downloaded to your PC or mobile device. You will avoid any spam or email viruses in your PC.
MailWasher Pro Settings:
General options that lets you control the program features, email checking, notifications, washing of emails, performance and updates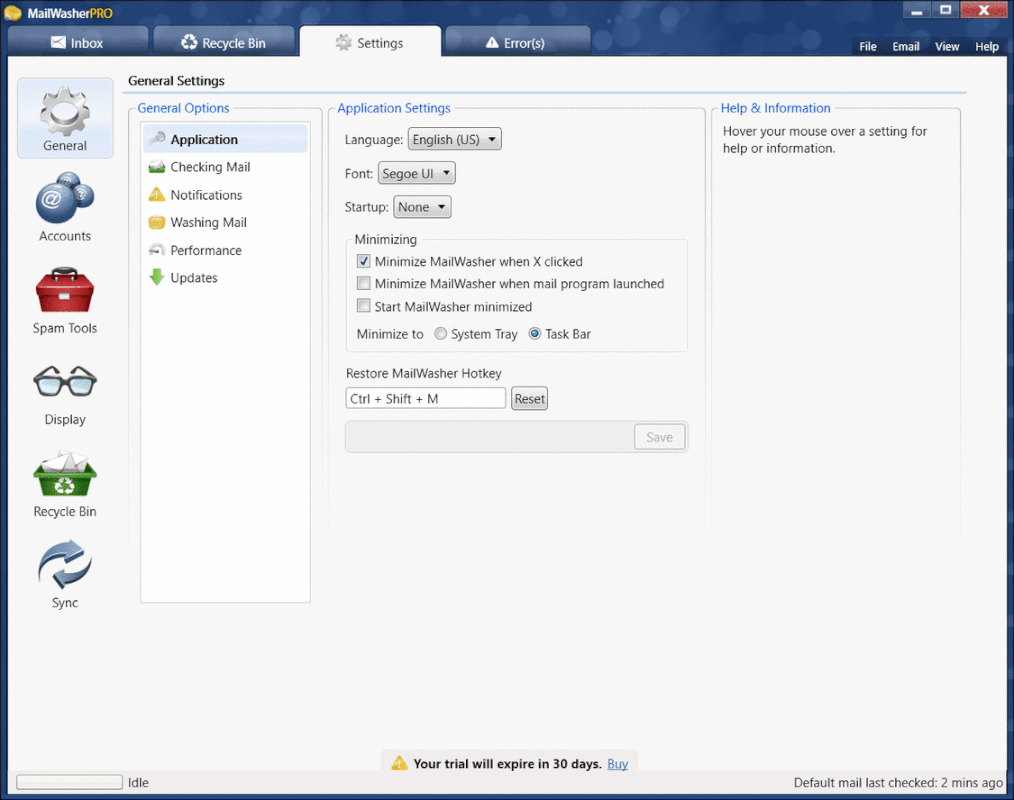 Accounts: this option lets you add or remove email accounts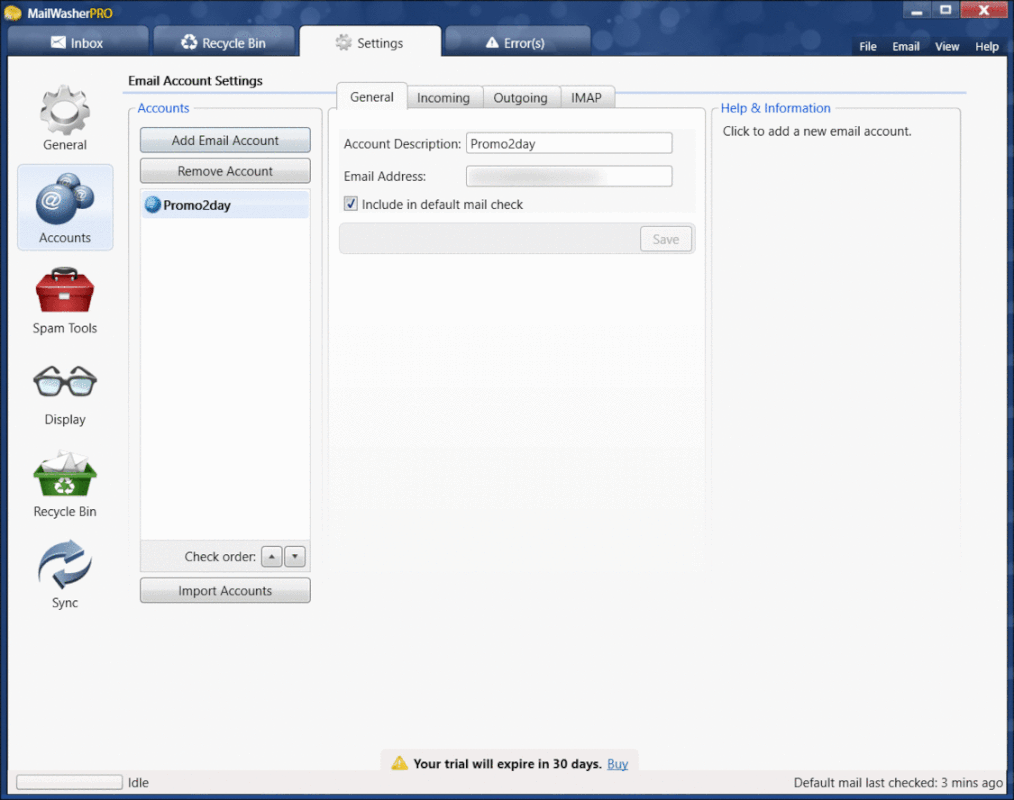 Spam Tools: this includes friend list, blacklist, filters, origin of spam, firstalert, learning settings, spam rating, spam reporting and profanity list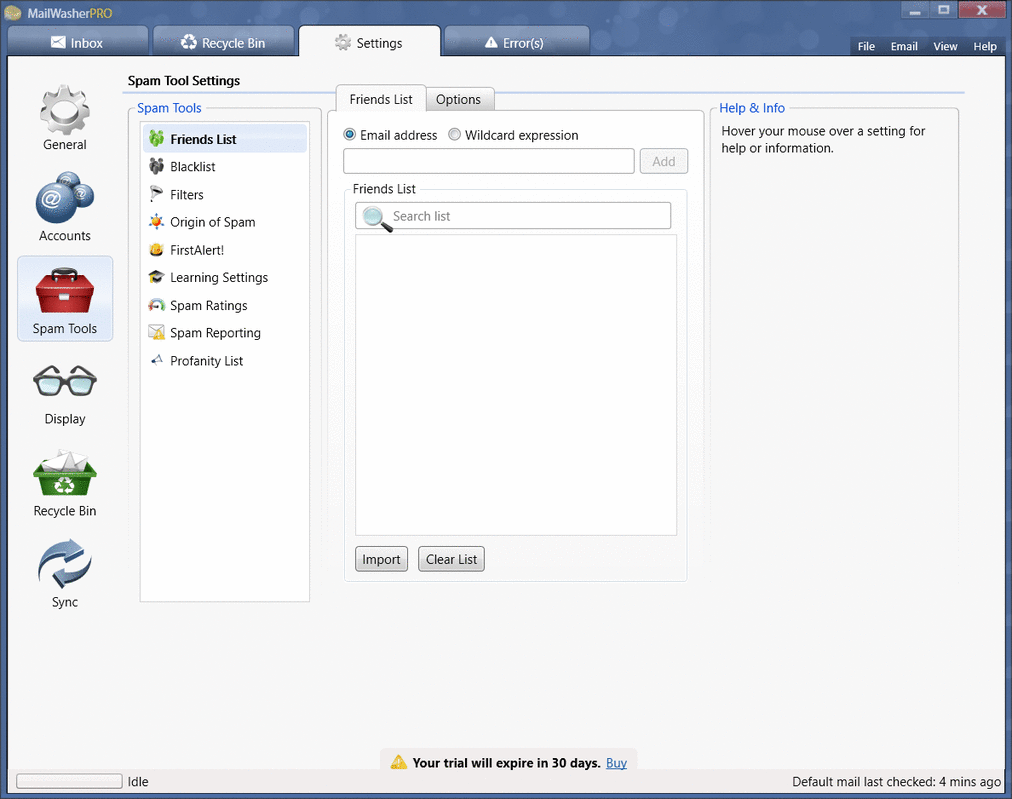 Display: this options allows you to change the display of the program, inbox, recycle bin, errors and event log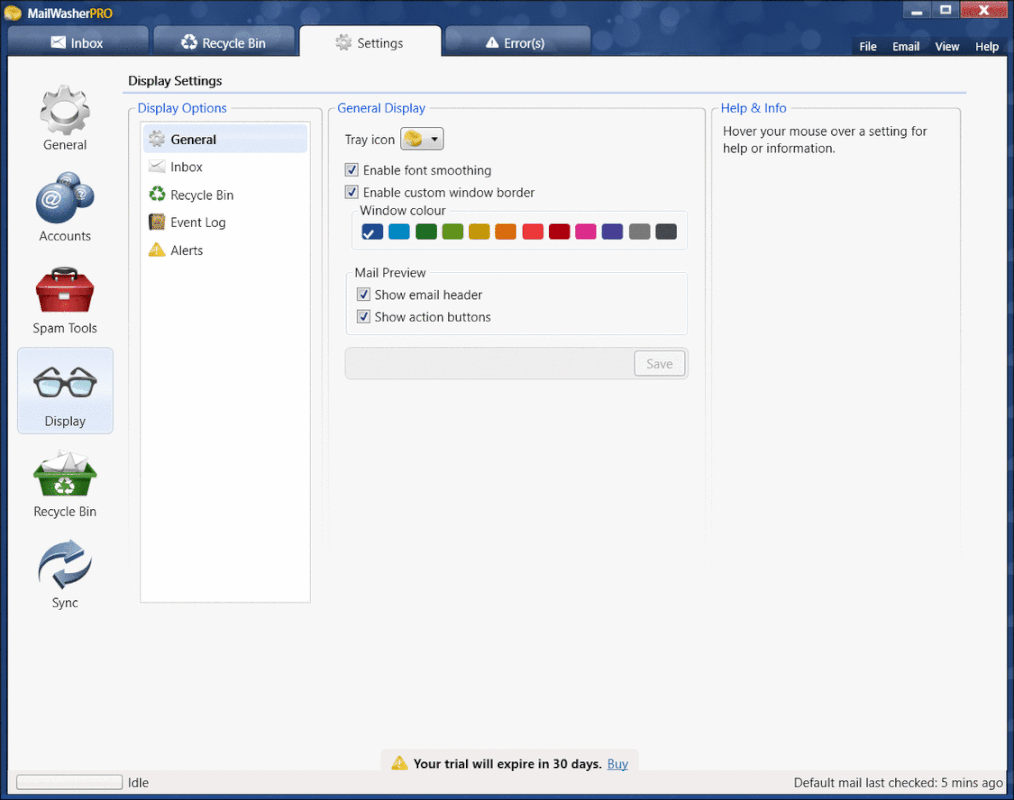 Recycle Bin: general and restoring of deleted emails
Sync: This lets you easily sync your settings with the mobile app. You need to login using your firetrust account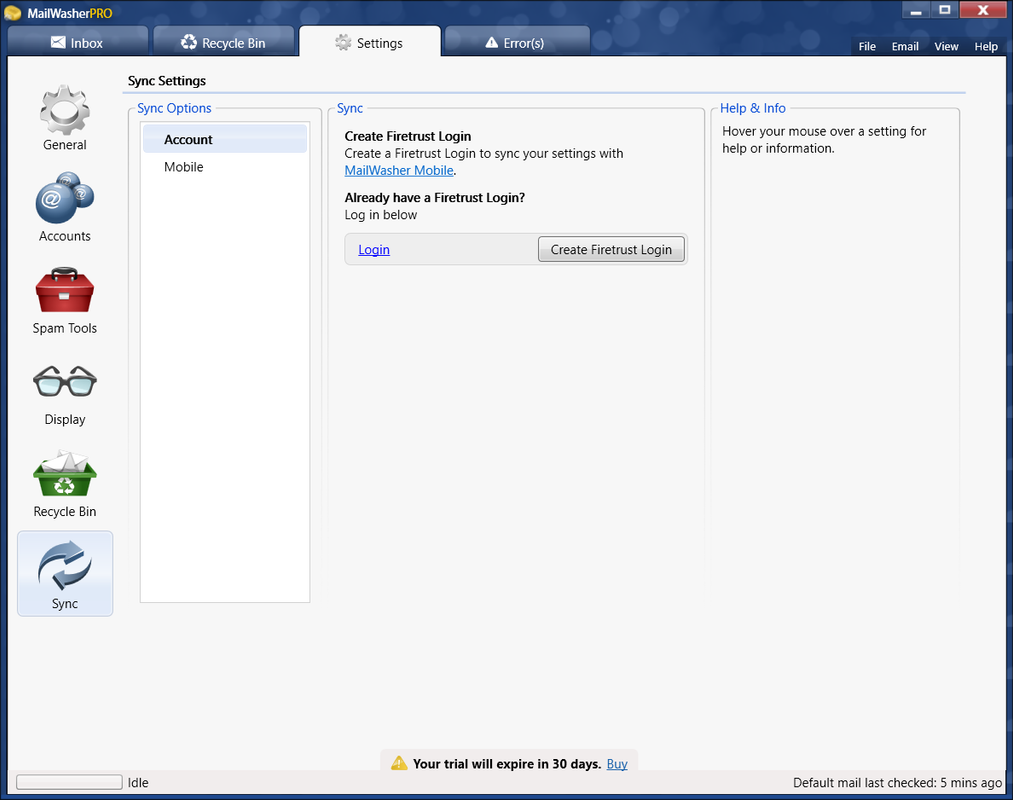 Homepage:
https://www.firetrust.com/products/mailwasher-pro
Download:
https://www.firetrust.com/products/mailw…o/download
How to use?
https://www.firetrust.com/products/mailw…washer-pro
Tips and Tricks:
https://www.firetrust.com/products/mailw…and-tricks
Online help:
http://help.firetrust.com/en/products/ma…index.html
Take Note:
From 15 May 2019, GMail has decided that all security and anti-spam apps can no longer use their existing system for adding email accounts in to applications (where the window pops up and asks you to sign in to Gmail). Any Gmail users who already had email accounts setup in MailWasher will find their email account no longer works (Sorry, it's beyond our control!), but it's an easy fix to get it working again. This also applies to new Gmail users setting up their email account in MailWasher.
These 2 options are below. The 1st option is the easiest.
First, make sure you're using the latest version of MailWasher.
1: Turn on 'Less secure apps'
Go to your Google Account Security page and enable 'Allow less secure apps'.
It's hardly less secure – it's just the way people have always added their passwords to email programs.
Your Gmail account should be working again in MailWasher.
GSuite users will need to use a different method.
Or, 2: Create an app specific password for Gmail in MailWasher.
Please see the GMail App password help about how to set this up. It shows you that you'll need to turn on 2-step verification for your Gmail account and then you can create a unique app password for your GMail account in MailWasher. After you have created your unique Gmail password for MailWasher, then use that app password in MailWasher.
Notes: For users who are not on the latest version of MailWasher, you'll still need to select one of the methods above, but also go to MailWasher>>Settings>>Accounts>>'Your Gmail account'>>Incoming tab>>Advanced, and uncheck the box marked 'Use OAUTH'.
Yes, it's a bizarre decision by Gmail to disallow security related apps to use their easier way to add an email account to other software.
One of our users authored this easy guide to help you get Gmail working in MailWasher and Yahoo with MailWasher.