Receiving spam is like those telemarketers who call at dinner time, very annoying and you didn't ask for it. Also, spammers continue to change and develop new techniques which put you at risk. Luckily you can protect your inbox and stop this with MailWasher.
MailWasher Pro is an easy to use anti-spam program that allows users to preview all emails at the internet service provider and remove all unwanted email before it gets to the computer. The program has an easy to use message table that will let you preview all aspects of your email. This feature along with the inbuilt spam tools helps you to easily select the email you want to keep. You'll save time ans maintain security and protection against malicious spam and email viruses as they are removed before they get to your computer.
Unlike other anti-spam solutions which are integrated to the email client, MailWasher Pro works outside the email client, so users benefit from its powerful protection, without downloading unwanted messages or viruses. Users can preview, delete, blacklist and even create an "invalid email address" message to send back to the spammer making it appear that their email address no longer exists.
By reviewing and deleting content at the email server, users are protected from objectionable and harmful content including graphics, web bugs are rendered inactive, bandwidth is protected, and viruses and malicious script is stopped from spreading. Users are also given control of their email load because they can "delete" an email that isn't spam but not of interest on that particular day due to time management or other reasons. MailWasher Pro not only stops spam and viruses, it is a time management email system, giving users total control of their email boxes!
In addition, the email is an effective communication tool for educators. MailWasher Pro increases email security for educators and students by protecting their email inboxes with advanced filtering technology and automated-spam deletion.

System Requirements and Availability

MailWasher Pro is available as a download from Firetrust's website at www.firetrust.com. MailWasher Pro's retail price is U.S. $39.95 for a single-user license, which includes a one-year subscription to First Alert!
Free 30-day trial version can also be downloaded from the site.
Minimum system requirements include Microsoft Windows XP, 7, 8 and 10 operating systems. It is compatible with all POP3 and IMAP email programs, including, Microsoft Outlook, Thunderbird, Mail for Windows 10, etc and webmail like Gmail, Outlook.com, AOL, Yahoo etc.
Homepage:
https://www.firetrust.com/
Download:
https://www.firetrust.com/products/mailw…o/download
Purchase:
https://www.firetrust.com/products/mailwasher-pro
Installation and Initial Wizard:
The process is very easy. Simply double click the installer and follow the on-screen instructions till the process is completed. Now you need to login to your email address. That's all!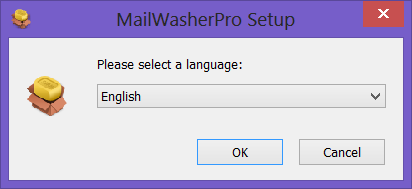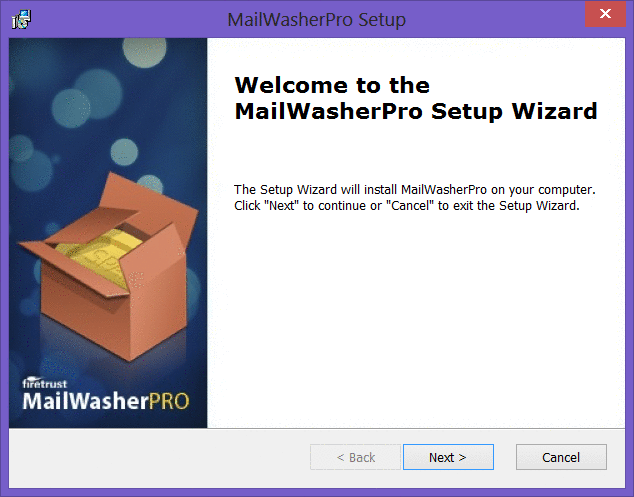 Product Info:
VERSION INFORMATION: 7.12.38
OS: Windows 7, 8 and 10, Vista and XP
Release date: June 2020
Protection against: Spam, phishing emails, email viruses, unwanted newsletters, unwanted email.
Trial Limitations: The trial offers 30 days free and full functionality. If you wish to keep using MailWasher after 30 days, you must purchase a license.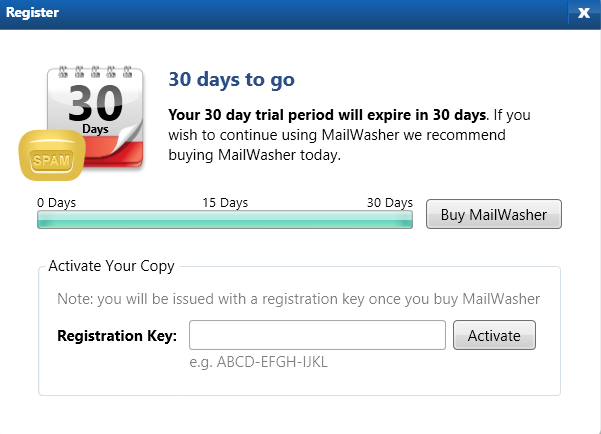 License: License to install on 3 computers. Includes 1 years use of all new versions, updates, real-time spam blocking and customer support for use with 3 computers. Current required renewal is US $39.95
Lifetime License: License to install on 3 computers. Includes lifetime use of all new and future versions, updates, real-time spam blocking and customer support which Firetrust will provide.
Benefits of Mailwasher:
• Zero spam in your computer or mobile device.
• Inspect any email before it gets to your computer or mobile device.
• Never lose an email because you can't afford to.
• Intelligent spam tools ensure spam is caught and good email is not.
User Interface:
Multi Language support:
Menus:
File:
Email:
View:
Help:
Email display options:
The number of emails checked for deletion will be displayed in the right lower corner. This helps to avoid accidental email deletion.
Filters sidebar:
This section is present on the right side of the main user interface. It includes of two tabs, namely Lists and Evaluation.
The Lists section is comprised of Friends List, Blacklist and Filters. The Evaluation section lists all the spam tools used in the evaluation of the email, a score for each and total score which indicates if the email is spam, good or undetermined.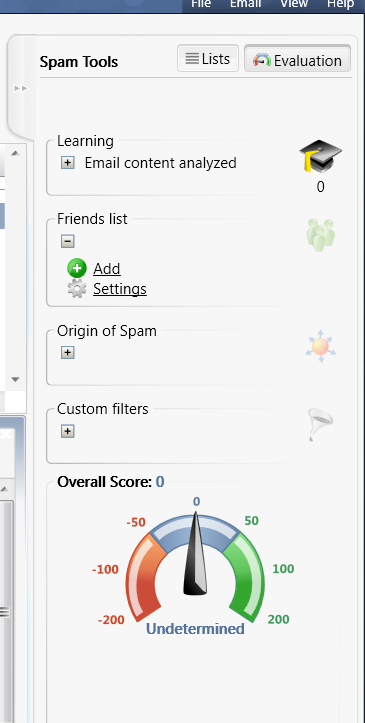 Features:
Full support for unlimited POP3 and IMAP email accounts allowing you to quickly preview emails from any service provider and almost all webmail providers (Hotmail, Yahoo, GMail, AOL etc)
Comprehensive weighted anti-spam tools such as Friendslist, Blacklist, RBL's, community spam filter, custom filters and learning filters to ensure legitimate and spam email is properly recognized.
Full preview pane allowing you to see all aspects of your email, including headers and where links actually link to. Emails are shown in plain text to avoid viruses and malicious scripts running automatically.
Full searchable recycle bin to retrieve any accidentally deleted email.
Customizable look and feel to enhance usability.
Quick and easy setup with inbuilt wizards.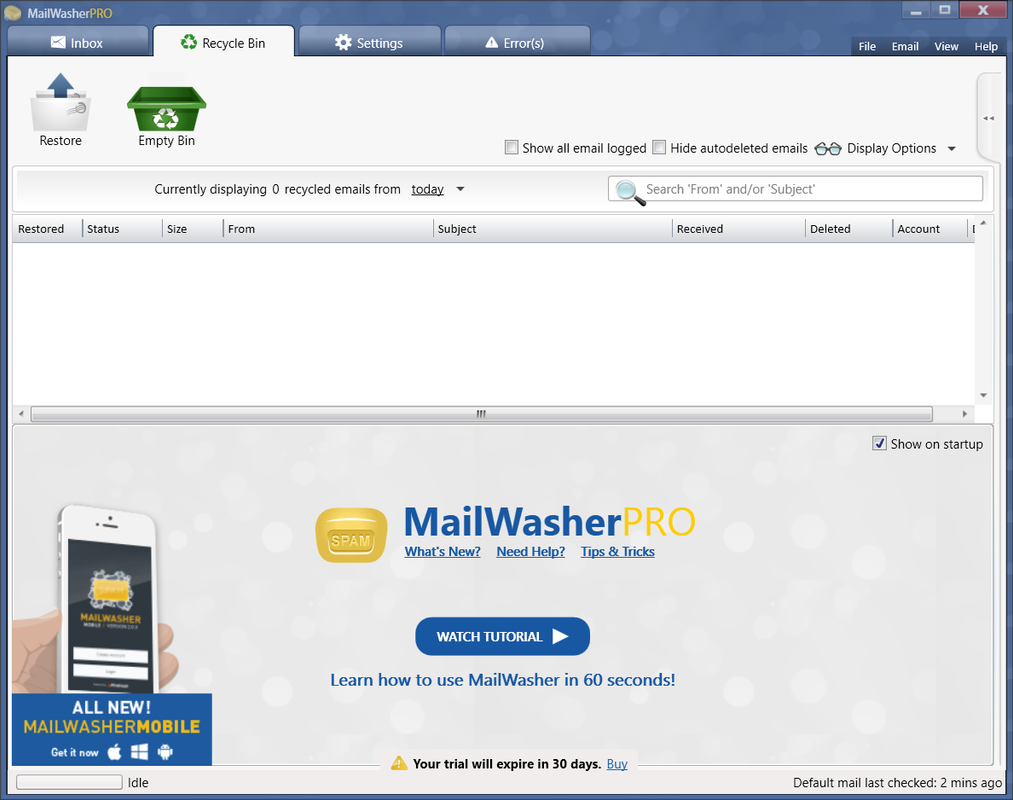 How does MailWasher work?
MailWasher logs in to your email accounts at your internet provider and downloads a copy of the email allowing you to read all your email on the server. This will let you inspect and interact with your email. The built in spam tools determine what is spam and what is good email. You can easily mark email for deletion, report spam to authorities, bounce spam back to senders and train MailWasher to better recognize spam and good email.
After sometime of use and training, simply pressing the 'Wash Mail' button will remove spam and unwanted email from the server and you can download the remaining good email to your email program.
How can you train MailWasher?
The built in spam tools let you customize how spam and good email is handled and you train Mailwasher to have very good results that suite your needs.
Simply click the 'Thumbs up' or 'Thumbs down' icons in the Classify column when MailWasher gets it wrong or doesn't evaluate it as good or spam. Doing this in 10-20 emails, MailWasher will do it all for you from then on.
How to use MailWasher Pro:
Using MailWasher is essentially a three step process.
1. Check Mail
2. Mark unwanted email for delete/training
3. Wash Mail
To begin using MailWasher, here's all you need to do.
When someone sends you an email it is first received by your Internet Service Providers email server. It is held there until you start up your email program, (Outlook, or some other program) which then looks at this server and downloads all your email, spam or not.
What Mailwasher does is to log onto that email server first and download just a small text only portion of each email. This lets you look at each one and see if it is a spam or a real email. You can then choose to delete or keep the email, so when you use your email program to download your email, all the spam has already been deleted.
Normally this is how you would use Mailwasher with your email program,
– Open MailWasher
– Click, Check Mail,
– Mark your email for deletion or keeping,
– Click Wash Mail,
– Then you open, (or Mailwasher Opens) your email program,
– Click Send/Receive in there to check for new mail like normal.
Just leave MailWasher open to collect all your email, and turn off automatic checking in your email program (so it doesn't pick up the email before MailWasher). This will ensure MailWasher gets all your email first so you can remove the junk before it gets to your computer.
One of the advantages of MailWasher is it allows you to check all your email at the server before it gets to your computer, letting you remove all unwanted email (spam, newsletters, junk, viruses) so they never get to your computer in the first place.
Read the full Review Here
Thanks to Nick Bolton from Firetrust we are able to giveaway 3 year licenses of MailWasher Pro to our forum members.

Giveaway Details:
Number of licenses: 5

Validity of license: 3 Year

Value of each license: $80.85 USD.

Giveaway Duration: 4 Weeks ends August 29, 2020

Winner selection: Random.org
Rules:
1. Share this Giveaway on Social Media (Facebook, Twitter, Reddit…). If you don't have an account on social media, share on other forums.
2. Put a comment including your share link.
3. Subscribe to our newsletter RSS FeedBurner and get all the latest giveaways and contests delivered to you by email.
4. Winners must PM Mike within 3 days after Giveaway ends to claim their license otherwise your won will be void.
Enter the Giveaway Here